El Ateneo Gran Splendid – literally the most beautiful bookshop in the world.
In 2018 El Ateneo Gran Splendid bookstore was voted by the Guardian the 2nd most beautiful bookstore in the world. In 2019 National Geographic voted it the most beautiful. I concur with that on my visit in 2020.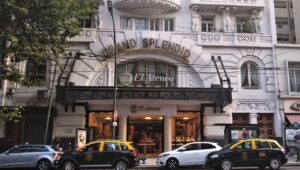 The Ateneo didn't start life as a bookstore and when you go inside its former role is immediately obvious.
In 1919 the building opened as a theater aptly named the Teatro Gran Splendid. The first performer was Max Glucksman, a Jewish immigrant from what was then the Austrian Empire. He became a pioneer in the Argentinian music and film industry
The theater had a seating capacity of 1,050 and hosted many of Argentina's most famous tango artists including Carlos Gardel.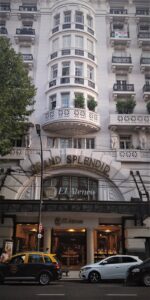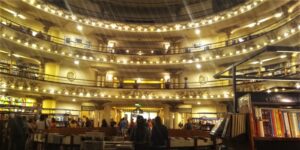 By the late 1920's the theater was converted into a movie theatre. In 1929 it showed the first spoken movie in Argentina. This was at a time when Buenos Aires was known as the Paris of South America.
In the year 2000 it was leased and renovated into a book and music store.  What was once cinema seating was removed (although some were retained) and replaced with bookshelves. Today customers can still meander through what was once the Theater boxes looking for their book. You can still admire the glorious frescoes on the ceiling. Once you have selected your purchase you can still go on stage.  It has now been converted to a cafeteria where you can enjoy your read with some refreshments.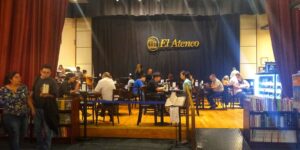 Today the bookstore covers an area of 2,000 m2 . The books are divided into sections so its easy to find whatever interests you. Obviously, most of the books are Spanish publications.  If you are looking specifically for English language books then you will be sorely disappointed. The section is very small, but you can locate it on right hand side just after the entrance.
Today the bookstore sells hundreds of thousands of books every year.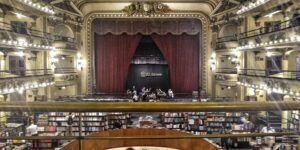 The book shop is located on Santa Fe Avenue 1860. Closest metro station Santa Fe on the D or H line. Its open everyday except Sunday.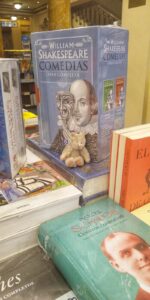 Tinyteddy's feedback: I was checking out the Shakespeare comedy set as you can see. I got the very distinct impression that I was not being taken seriously and we attracted a bit of a crowd.  Yeah i can read! Frankly I would have preferred his romantic sonnets (maybe it would have helped my love life) and preferably in English. Yeah I ended up buying the comedy set on impulse to show I was not some fickle tinyteddy.