Floralis Genérica – So much for the sunset!
Probably one of the most curious sights in Buenos Aires. This stunning creation stands at 23 meters and weights in a at a massive 18 tons. Designed and created by well-known Argentinian architect Eduardo Catalano, it was opened to the public on April 13th 2002.  Catalano said of his gargantuan stainless steel flower "it is a synthesis of all the flowers and, at the same time, a hope reborn every day at opening."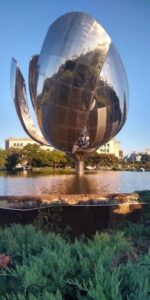 The sculpture is located in the center of the Plaza de las Naciones Unidas on Avenida Figueroa Alcorta. If you have just visited the MALBA museum then it couldn't be easier. Simply turn left when you exit and you just need to walk about 10 minutes. You will easily spot the flower on the left-hand side of the park. Several paths circle the flower which sits above a reflecting pool. Each path gives you a different perspective.
The simple idea behind this glorious piece of technology is that the 6 petals, each one measuring 32 meters, open at sunrise and close at sunset. I have a slight issue with this simplicity. Despite turning up a good hour before sunset the petals were already closed.
Tinyteddy's feedback:
OMG I was positively overwhelmed by this amazing flower. I concur there seemed to be some issue with the sunset timing. Still I have to admit I exuded a certain  charm from my position in the bushes which i have to admit didn't go unnoticed by a few passing ladies.