Obelisco (Obelisk) de Buenos Aires and the pink condom
If ever there was a monument synonymous with a city then the Obelisk certainly serves that purpose for the city of Buenos Aires. At a height of 63 meters it dominates the city skyline from several angles.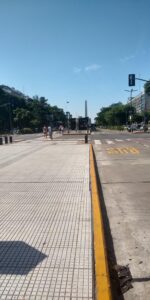 The site chosen at the crossroads of 9 de Julio and Corrientes street was once home to a church dedicated to St Nicholas de Bari.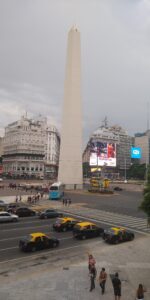 The Churches claim to fame was that it was home to the Argentinian flag which was first hoisted in 1812.
In a city not known for its speed when it comes to new buildings the Obelisk was erected in 3 months. Building started on March 20, 1936, and it was finished on May 23 of the same year. Opinions seem divided about whether or not the statue is either attractive, or, if in fact it serves any purpose.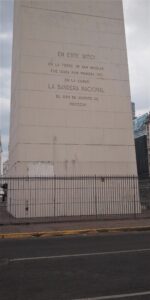 For instance, there is little point in turning up expecting to be able to climb to the top as the inside has only a straight staircase of 206 steps.
The monument has suffered its fair share of vandalism over the years, mostly in the form of political graffiti. This eventually led to the erection of a fence, which at the time proved unpopular, but ultimately reduced the number of incidents.
On a similar political note in 1975 during the Peronist Government of Isabelle Martinez de Peron a rotating sign was hung round the monument. It read  "El silencio es salud (Silence is health). The message was supposedly aimed at motorists not to create excessive noise. Argentinians interpreted the words as asking them to refrain from expressing their political views. The monument had its most famous moment on December 1st, 2005 when it was covered with a giant pink condom to commemorate World Aids Day.
Tinyteddy's feedback:  Yeah awkward to say the least. Being a rather sheltered teddy the giant pink condom was a bit hard for me to handle and no, no pun intended.