Recoleta Cemetary – Tales from the graves.
About the cemetery.
Recoleta cemetery is the burial place of Evita Peron but also many other famous Argentinians. It was established in 1822 in what was then a very empty part of the city. The cemetery was basically for the rich and high society who wanted their burial place to be an extension of their beautiful homes. A plot in this cemetery was their way of showing off their wealth and style with each family competing to build the most stunning mausoleum.  Unfortunately after a few years it became a big mess and it was closed down.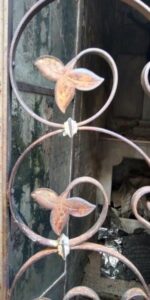 They reopened in 1882. It's a public cemetery with nearly 5000 mausoleums and 300,000 people are buried here. If you joined all of them together they would stretch to 4 city blocks. There are a few private mausoleums for which u have to pay about $2000 a year in taxes. Some of these can have up to 25 coffins inside. If the taxes r not paid then eventually it will be sold. You can pay as much as $200,000 for this and u r basically buying the plot, and you can then stylize it to suit your needs.  These plots r sold either by the government or estate agencies. Anyone can buy them, however u will then become responsible for any coffins inside, which as i said in some cases can be up to 25. You will have to pay an extra $2500 to have each of them removed. These people more often than not are then cremated. The cemetery is not restricted to Catholics and there are even 3 Jewish families buried here.
Evita – Eva Peron – Where did she go!
Obviously the most famous resident is Evita who died in 1952. (more about her in another post). Her body vanished for 14 years eventually turning up in Madrid. Her husband Juan was President 3 times. He was eventually exiled to Spain by President Aramburu who is also buried here. He  returned without Evita in 1973 which was by then his third presidency. After a public outcry It was left to his wife Isabel to finally bring Evita back. Her family the  Duarte's did not have a mausoleum in the cemetery so the Arrieta family  who owned this particular mausoleum, offered it to the Duarte family. You can see their name on the top left hand side.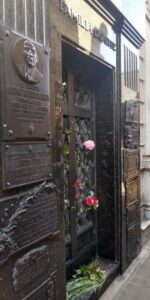 She is buried together with her mother and siblings.  It seems ironic that someone who devoted herself to the poor and downtrodden should now be buried among the rich elitists who for the most part loathed her.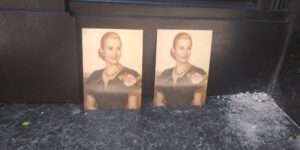 Her husband is buried elsewhere.  There was once talk of her being reburied with him but her family refused. Her body is not inside the vault for security reasons but you may well be standing on it as it lies reinforced on the pathway next to the tomb. It lies deep underground reinforced  in concrete to avoid it ever disappearing again.
Liliana Crociati de Szaszak – the saddest story of them all!
This is the sad story of Liliana Crociati de Szaszak. She was born in 1944 and in 1970 she was on her honeymoon in Innsbruck when an avalanche killed her. She is buried in recoleta cemetery in a neo gothic style tomb which was designed by her mother. The life size statue is of Liliana dressed in her Indian style wedding gown.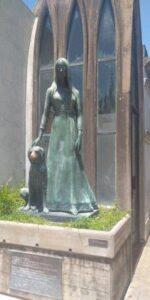 It even shows her wedding ring. If u look inside u will see some steps. It is believed that this leads to a replica of her bedroom at home and that her wedding dress lies on top of the bed. On the same day she died by some awful coincidence her dog also died and his statue stands by her side. If u rub the nose you will have good luck. Under Liliana's statue there is an inscription in Italian written by her father.
It says. "To my daughter. Only i ask myself why. You left and left my heart destroyed that only wanted you. Why? Why only destiny
knows the reason and i ask myself why. Because we cant be without you. Why? You were so beautiful that invidious nature destroyed you. Why? I only ask myself why if God exists does he take away that which is not his. Because he destroys us and leaves us to an eternity of sadness. Why i believe in fate and not in you. Why? Because i only know i dream with you, why is that. For all the love my heart feels for you. Why? Why? Your Papa"
Rufina Cambacérès – Buried alive!
Rufina was born into a wealthy family. Her father had tragically died when she was only 4 years old  from tuberculosis, By 1902 Rufina was 19 years old and was enjoying her life as one of the cities beautiful socialites. She was in love with a 30 year old man. One night while getting ready for a night at the opera a friend told her that her mother was having an affair with her boyfriend.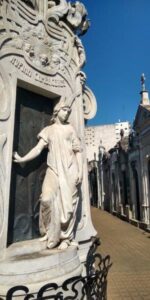 It was such a shock that she died almost immediately from a heart attack. Three doctors were called and confirmed her death. Rufina was placed in a sealed coffin and shortly after she was buried.  A few days later a cemetery worker discovered that the coffin had moved..His first though was grave robbery and he cautiously opened the coffin to find horrifying evidence of stretch marks on the coffins interior and some pieces had been broken away. Rufinas hands were badly bruised from trying to break out of her coffin. Alarmingly she had been buried alive. The apparent reason doctors said  was that she had suffered from "catalepsy" which in layman's terms meant she had simply stopped breathing temporarily.. Her mother supposedly felt so guilty that she arranged for her daughter to be buried in Recoleta and  had a mausoleum especially designed of a full sized statue of Rufina standing outside and holding the door to her own mausoleum. Obviously the story is the stuff of legends but there seems no doubt that Rufina's last terrified moments in life were spent  locked in her underground tomb. The legend also says that every night Rufina roams the cemetery as the resident ghost.
Luz Maria Garcia Vellosa – Is she a ghost?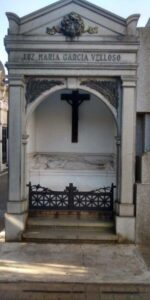 Luz is another another young woman who died at an early age. She was only 15 in 1925 when she died from leukemia. . Her art nouveau style grave occupies a spot literally at the entrance of the cemetery. Her mother was supposedly so upset that she actually slept with her daughter inside the mausoleum's vault for several nights. So one night a young man was in a nearby bar and got talking to a young woman. She told him she was cold so he gave her his jacket.The next day the young man went to her apartment to get his jacket back only to be told by her mother that her daughter was dead. The two of them went to the cemetery and the young man found his jacket at her grave. Rumour has it that Luz often leaves her grave at night to meet young men.  when she
Luiz Angel Firpo – The wild bull of the Pampas
Luiz was an Argentinian  heavyweight boxer.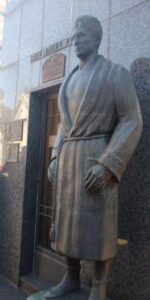 His statue is lifesize. . People jokingly  think he is wearing a batrhobe but at 6'5inches tall and 220 lbs you probably wouldnt want to get into a fight  with him. His nickname was  "El Toro Salvaje de las Pampas," The Wild Bull of the Pampas' It was well deserved. His career was illustrious fighting against all the big names in boxing. His most famous fight was in NYC in 1923 against Jack Dempsey. Obviously there was no internet or tv so a beacon in Buenos Aires would light up red if he won the fight. It happened when Firpo knocked Dempsey completely out of the ring. Dempsey was finally helped up by the surrounding reporters at the count of 8 and helped back into the ring. In principle Dempsey should have been disqualified and speculation at the time was that the fight was fixed. Dempsey eventually knocked out Firpe and was declared the winner. . Despite this loss Firpe's career included 32 wins out of 38  he will be remembered as one of the greatest boxers of all time. You might want to compare your hands with his.
Salvador Maria del Carril and Tiburcia Domínguez – A woman scorned.
The first thing you will notice about this mausoleum is that the couple who are buried here are not next to, or facing each other.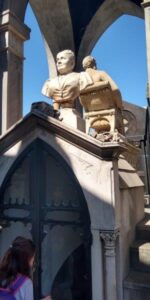 This was deliberate and when you hear the story you will understand why. Salvador was the governor of San Juan and an important figure in politics. Eventually the couple moved to Buenos Aires. By the days standards they were a wealthy couple. Tiburcia was overwhelmed by the beautiful stores in the capital and went on a shop till you drop campaign almost on a daily basis. At some point her long suffering husband  had simply had  enough of being pursued by his wife's  creditors and was fast running out of funds to support her extravagant spending. His next move was literally the straw that broke the camels back.  He published a letter in several major newspapers saying he would no longer pay for his  wives spending sprees. This didn't sit well with Tiburcia and she responded with a letter of her own declaring  her husband as a horrible man and she would never speak to him again. Her husband lived another 20 years and they never spoke again. Tiburcia would survive her husband by 15 years and enjoyed them by throwing lavish parties. Her final wish when she died in 1895 was to be buried looking the other way from her husband. A woman scorned indeed!
David Alleno – A grave to die for!
David Alleno is not the sort of person you would usually find buried in Recoleta.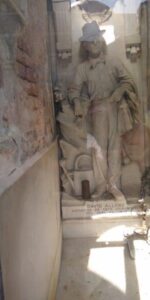 In fact he only worked at the cemetery. His career at Recoleta started in 1881. At a child he had visited the cemetery several times. It was his dream to be buried in the cemetery and for this purpose he saved money all his life to make his dream come true. . He carried out maintenance tasks at the cemetery and had a curious fascination with the dead who were buried here. He was not foolish enough to think that he could ever be buried here.   In reality he was obviously not of the calibre to ever be considered for a plot here and neither could he afford it. . However dreams can come true and when his brother won the lottery he distributed the money among his siblings.  David was finally able to purchase a plot in the cemetery. He wanted it to be in keeping with the other mausoleums and for this he traveled to Italy. His aim was to find someone renowned  who would make his a sculpture of himself in marble. He stipulated that it should not only look like him but show him with the tools of his trade as cemetery worker. The statue was cut to size. When he returned he spent his time readying his mausoleum  for his eventual death. By the time it was ready  he was 40 years old. He went home and committed suicide by shooting himself . His dream finally came true!
Ramón Lorenzo Falcón – Murdered twice!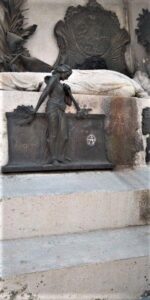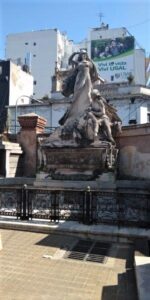 Falcon was an army officer, politician and chief of the Argentinian police.He was not well liked in certain circles and was well known for his using sabre wielding officers called 'Cossacks'. He used his power to great effect in personally supervising actions against protesters and would take repressive action against them.  He will be best remembered for his iron hand in suppressing the Argentine labor movement in 1909. Particularly brutal was a week of protests during what became known as red week when the police under his command killed 80 protestors He was killed by a homemade bomb thrown into his carriage on November 14th by a Ukrainian/Argentinian militant called Simón Radowitzkyl.   His aide, Juan Alberto Lartigau died with him. They both died on their way to the hospital. The two men are buried close to each other in very different styles. In November 2018 a bomb attack took place at the cemetery. The supposed target was Falcon as It marked the anniversary of his death. It was carried out by Anahí Salcedi who was badly wounded in the attack. It means that Falcon was actually killed twice.
Pedro Eugenio Aramburu Silveti – Dont say the "P" word
Aramburu was an Argentinian army general who became President in 1955. He was an instrumental figure behind what was known as the Revolucion Lbertadora.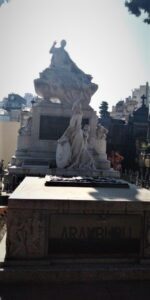 This was a military coup which overthrew Juan Peron. This led to 3 years of Military rule until he allowed elections in 1958 and was voted out by Artuto Frondizi. He was in part responsible for the disappearance of Eva Peron who had died in 1952.  He ordered her remains and all traces of her to be wiped out. This was not followed and led to her remains being hidden in all sorts of places until finally turning up in Madrid. There was even a law making any mention of their names illegal. Juan Peron was exiled to Spain.  IN 1970 he was kidnapped by a radical organization called the Montoneros and murdered. It was clamed that it was in retaliation for the 1956 execution of an army officer called Juan Jose Valle who was associated with the Peronist movement. Like Evita he is buried under reinforced concrete to avoid any further action from the Montoneres movement.
Admiral William Brown – His great achievment.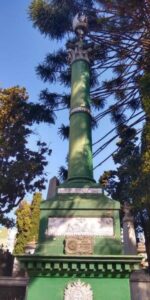 You may be surprised to find an Irish man buried in Recoleta but look out for the very unusual tall green statue close to the entrance. The ship on the top of the monument will give you a clue to his possible connection to Argentina.  He was born in county Mayo Ireland in 1777 and moved to Philadelphia in the US with his family in 1786. His father died shortly after their arrival from Yellow fever. The story goes that one morning while walking near the banks of the Delaware river he was approached by a captain of one of the ships who offered him employment. He worked his way up from cabin boy to captain of his own merchant vessel, perfecting his skills on the Atlantic Ocean. He eventually ended up in Argentina where he was instrumental in establishing the country's navy. During his illustrious career he fought wars with Spain, Brazil and Uruguay. It is not surprising to find out that he is affectionately known in the country as "The father of the Argenitne Navy".
Dorrego Ortiz Basualdo family – Size matters!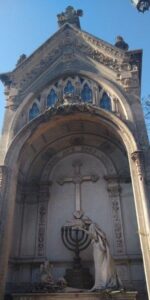 You can't really miss it as it is the largest mausoleum in the cemetery. It is modeled in the style of a French chapel.  The vault of the Dorrego Ortiz Basualdo family who were wealthy landowners was designed  by the French architect Louis Dubois. You could be forgiven into thinking that the candelabra indicates a Jewish family but it is also an important symbol in the catholic religion. The mausoleum is a replica of the Montanaro vault in Stagnetto cemetery in Genoa. The huge vault tells the story of a well know parable called "the Parable of the Wise and Foolish Virgins".  Ten virgins are all carrying lamps as they wait for the coming of the bridegroom. At some point five of the virginssun out of oil and could not relight their lamps. They decided to leave to look for some more oil. Unfortunately, after they left the bridegroom arrived and they were not included in the proceedings. The flame on the seven parts of the menorah are kept lit by a prudent virgin which symbolizes eternal protection.
How to visit.
You will find the cemetery in Recoleta at Junin 1760. It's open 7 days a week from 730 am to 5 pm. Entry is free. I would suggest you take a tour as the interesting part is hearing the stories about some of the fascinating people who are buried here. I took a tour with Buenos Aires free waling tours. Click here for more details. This particular tour is not free but at $10 it is more than worth the money especially with Maryann who was excellent.
Tinyteddy's feedback.
"Well finally i get my say and I can't really add much to what's already been said. Well done I say and thanks for the great experience and explanation to all the amazing tales we heard. The story of Liliana and the dog broke my little teensy heart. Didn't sleep well that night"